Multilingualism as a field of action in intercultural school development (MIKS)
Multilingualism in the secondary school classroom (MIKS III)
Transfer of the MIKS concept to schools in Hamburg
Duration: January 2020 - December 2021
The transfer of the MIKS concept comprises two areas: (I) adaptation of the MIKS concept for the work with secondary schools, (II) transfer from university to secondary schools in Hamburg.
This is carried out in cooperation with schools that are interested and develop structures to use the multilingualism of students in their field of activity productively as a resource for language education and learning in school. Further, the schools develop and test their own practical projects. For this purpose, the MIKS concept will be further developed jointly with the schools on a scientific basis and adapted to the Hamburg school structure.
The central characteristics that have proven to be relevant in the scientific monitoring will be preserved. Based on the knowledge that innovation is most likely to take place where everyone involved has new and good experiences with multilingualism at school and in class, the expertise from the MIKS project is to be transferred to other types of schools.
Funded by the "Calls for Transfer" funding measure from Hamburg Innovation
Intervention study (MIKS I) to and dissemination (MIKS II) of a professionalisation and school development concept in an age of immigration
How can primary school staff be supported in embracing children's entire linguistic repertoires and incorporating them in their teaching? Studies show that teachers feel uncertain and insufficiently qualified in this area (cf. Bien 2012; Wischmeier 2012; Fürstenau 2017).
The MIKS project supports primary school staff in developing constructive approaches to the incorporation of pupils' home languages in the classroom and in integrating these into their schools' daily routines.
The MIKS concept for professionalisation and school development was created, trialled and scientifically evaluated in three primary schools in the first phase of the project (MIKS I, 2013-2016). In the second phase (MIKS II, 2016-2019) it has been adapted to the situation in primary schools with large numbers of newly immigrated children and is being disseminated in 18 schools via a training programme for multipliers. The project is run in cooperation with the regional coordination unit for local integration centres in North-Rhine Westphalia (LaKI).
Scientific evaluation: The process of multiplier professionalisation as well as the processes and effects in all participating schools are scientifically evaluated.
Training: The MIKS team from Universität Hamburg communicates the MIKS concept to the multipliers.
Qualification: The multipliers implement the MIKS concept with the staff in the schools. The training and qualification sessions take place over an eighteen month period. Both the training and the qualification include content-based modules as well as sessions for guided reflection.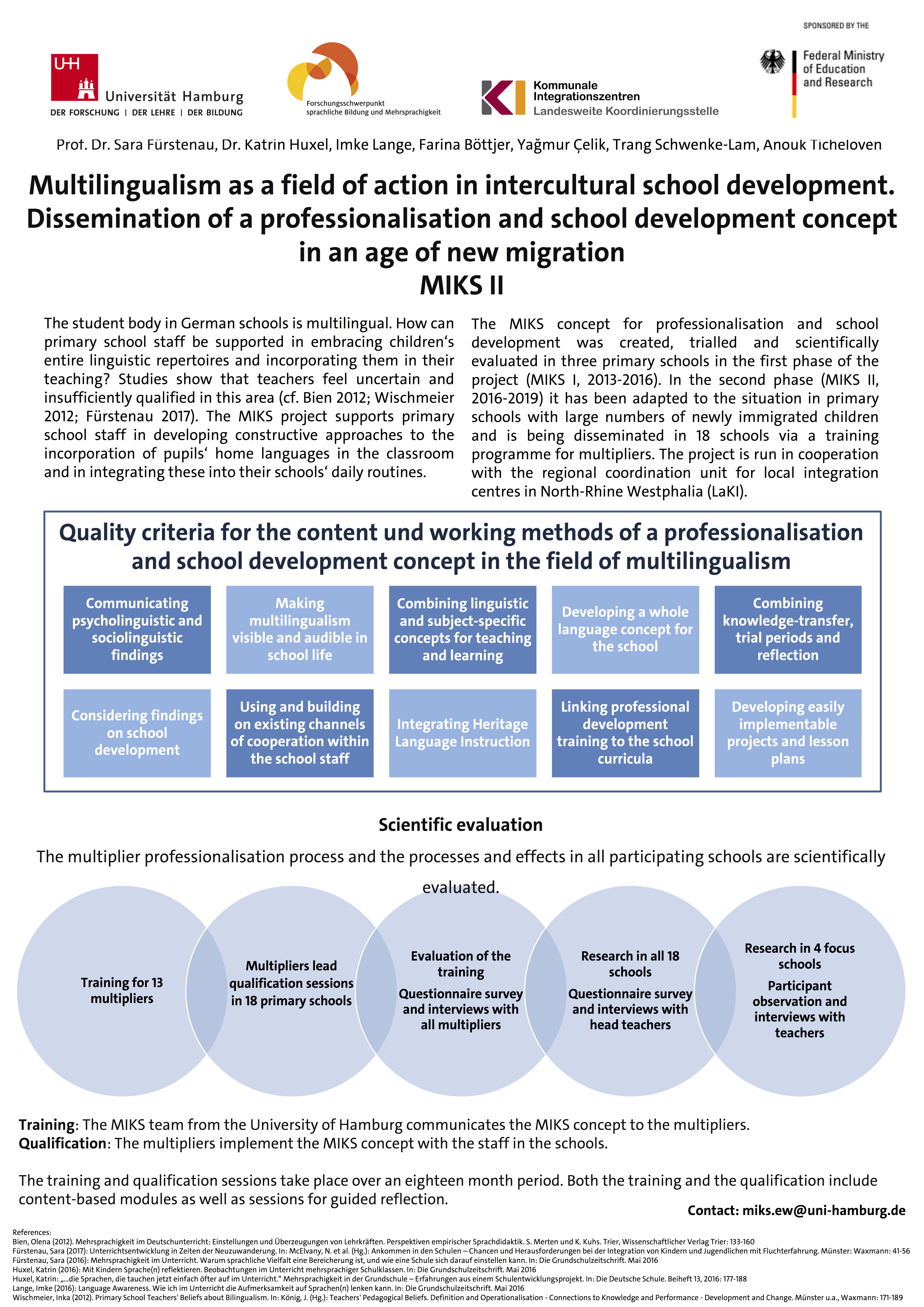 MIKS I and II were funded by the Federal Ministry of Education and Research (BMBF).