"At the moment, I couldn't imagine a better place to live and work."
Interview with Dr. Maria Lucenti
11 February 2022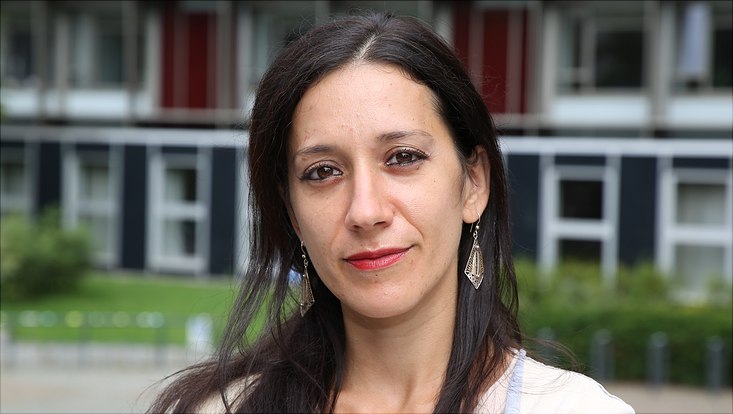 Photo: UHH/Scholz
International Office met with PRIME fellow Dr. Maria Lucenti who is researching the history of education in a comparative perspective.
Dr. Maria Lucenti is guest lecturer / Postdoc at the Faculty of Education. She has been a scholarship holder of the DAAD PRIME grant for the last 18 months. We had the chance to speak to her about her scholarship, her research and her time in Hamburg and at our faculty. 
International Office: Maria, would you tell me more about this scholarship you got and what that meant for you and your work?
Dr. Maria Lucenti: Of course. From July 2020 until January 2022 I was holder of the PRIME Scholarship, PRIME being an acronym for Postdoctoral Researchers International Mobility Experience. This resulted in a one-year stay at the University of Worcester and, afterwards, coming to the Faculty of Education at Universität Hamburg. PRIME scholars always stay at an international higher education institution for twelve months and spend the remaining six months at a German university.
Were you able to choose the places yourself or was the placement part of the scholarship?
I chose these two universities as part of my PRIME application for their relevance to my research project. As the history of education in a comparative perspective is my research field, I was very glad to be able to come to Hamburg as part of my PRIME fellowship and become part of Prof. Sylvia Kesper-Biermann's research group as she has great expertise in the field. I am very happy that I now have a teaching assignment at this faculty so I can stay longer.
We'll come to your stay at Universität Hamburg in a moment; before, let's briefly talk about your research focus and your former and current work. How come you got interested in English and Tunisian textbook comparison?     
During my Double Degree PhD program that was funded by Erasmus Mundus, I spent 18 months in Tunisia as my doctoral thesis focused on a historical-comparative analysis between Italian and Tunisian school manuals and education policies. So I wanted to understand if the changes introduced in the Tunisian education system by the school reforms of 1991 and 2002 had had the same repercussions in terms of identity reinterpretation also on the discipline of Islamic education, in addition to those previously considered during my doctorate, i.e. history and geography. This is why I have chosen Tunisia as the context of analysis. On the other hand, the United Kingdom represents a very different model as regards the teaching of religious education and this diversity represented an interesting element for comparative purposes, also taking into account the varied religious landscape. My focus lies on the period of the 70s until today. During that time, multifaith education was introduced in the United Kingdom, the so called "big six", the six most representative religions of the British context, namely Christianity, Judaism, Islam, Hinduism, Buddhism, Sikhism, in addition to non-religious worldviews, such as humanism.
That sounds very exciting! And were you able to prove your hypothesis that religious education textbooks are culturally located and socially defining?
Yes, definitely. As one can easily guess, there is a great difference between the UK and Tunisia regarding religious education textbooks as well as the approach towards pluralism in that field. What is interesting is to reconstruct these factors and see how the educational context in general has dialogued and conditioned the teaching model adopted and how it has changed over time. School textbooks, in general, reflect societal beliefs and identity.
That sounds absolutely logical. How did your time in Hamburg contribute to your research?  
I want to stress that I was integrated very well into the research group here at the Faculty of Education and that my stay in Hamburg has, so far, given me the opportunity to start some new and fruitful collaboration that support my scientific progress. As an example, I was able to prepare and host an International Conference on Teaching Religious Education funded by the Academy of Sciences and Humanities in Hamburg. This conference brought together researchers from different countries such as the UK, Canada, Tunisia, Italy and Germany.
Furthermore, I held a seminar during the winter semester on international comparative perspectives in the History of Education. With all these undertakings, I could always count on the systematic support from the faculty members and my research group. I am very glad that I can stay longer here at Universität Hamburg.
Last but not least: What is your impression of the city of Hamburg?
I love this city! Honestly, it is the most beautiful city I have lived in so far – and I have seen quite a lot. I am fascinated by the history and the multiculturalism of this place and, what makes Hamburg even more special to me as it reminds me of my hometown Genoa, by the importance of water in this city. At the moment, I couldn't imagine a better place to live and work.
Thank you for your time, Maria.
For more information on Dr. Maria Lucenti, her work and CV, please look here.