"You're One of Us Anyway"
26 August 2022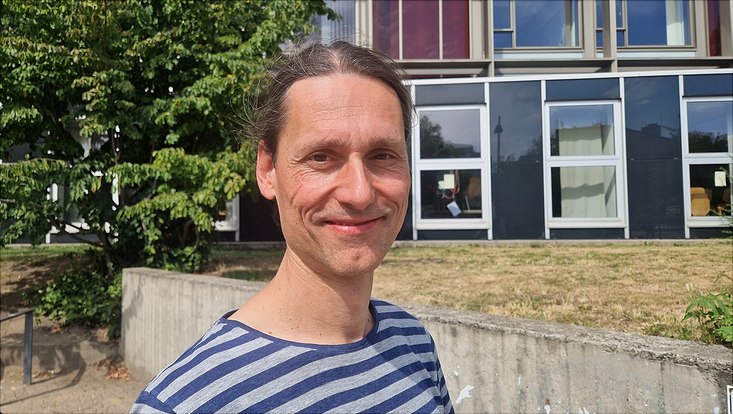 Photo: UHH/Imanuwarta
The International Office talks to Prof. Dr. Andreas Bonnet, Professor for English Language and Literature Education, who recently returned from a 3-month research stay at the University of Edinburgh, Scotland.
In his research, Andreas Bonnet works with his colleagues in the Faculty's research area Uncertainty as a dimension of education focusing on the uncertainties surrounding current transformation processes in education, to find out what consequences this has for schools and universities in terms of the professionalization of the teaching community.
International Office:What motivated you to go abroad for your research?
Andreas Bonnet: I have actually never asked myself that question. For me, it's clear that I want to use the opportunity to get new perspectives every 4 years. In my experience, more can be gained from being on the ground than from a distance. The relationships that develop on a personal and professional level have a long-term positive effect on building joint projects, such as, for example, our project Tricontinental Teacher Training. The project, in collaboration with the University of Education Winneba (UEW), Ghana, and the University of North Carolina at Chapel Hill (UNC), USA, grew out of the close relationships my colleague Prof. Dr. Telse Iwers has with Ghana, and my last research stay in Chapel Hill during 2018. For me, as a professor of English Language and Literature Education, the opportunity to explore the English language in new and different contexts is always a major draw.
Why did you decide to go to the University of Edinburgh?
That actually had its roots in an international symposium held as part of the ECER 2019. In preparing the symposium, we, that is myself and the other researchers in the research area, came across the work by Dr. Andrea English at the Moray House School of Education and Sport at the University of Edinburgh. This quickly sparked a lot of interest within our collaborative group, so much so, we ultimately hosted a symposium together. As a result, it was clear to me that I wanted to go to Edinburgh to build on this collaboration with Andrea English.
What else did you particularly like about Edinburgh?
I had taken my family with me on my last research stay in the USA, and they came with me again to Scotland. Both stays were major life experiences for my children. As in Chapel Hill, my children attended school and also joined a football club. Even before we got there, it was clear how excited the teams were to have them. This welcoming culture and the ease with which we were accepted into the community continued throughout our stay there.
What knowledge or experience were you hoping to gain, and do you feel you did?
For me, the most important thing was firming up the work with Andrea English, particularly through joint applications that we wrote while I was there. One application is almost complete, unfortunately we had to postpone the application for her visit here as the DAAD has discontinued the funding line for the time being. As soon as we are able to apply, we will start working on the application again. I also wanted to look at and talk about John Dewey's approaches to uncertainty and democracy education. I literally took on a student researcher position and edited texts that we then exchanged. It was not only interesting and enriching for me, it was also a great way to get new perspectives on John Dewey's work that made me very happy.
Thanks to the coronavirus, a lot of work at the University of Edinburgh was being done remotely, and a lot of my colleagues were working from home office, so it was initially very difficult to build new contacts. It was however important to be there, to get an overview of the organizational structures and cultures, which would not have been possible from Germany. Particularly in the last weeks of my stay, the opportunities for in-person meetings increased. At the end, I was invited to join an academic search committee which also gave me insights I would not otherwise have gotten. Of course, it took a certain amount of initiative on my part to be noticed as part of the organization.
How much did this stay enrich your research and teaching at our faculty?
In terms of future collaboration, the trip was enriching on every level. It is not only because I was able to consolidate a few existing contacts and make some new ones. The knowledge I gained about the organizational structures and responsibilities for example, as well as a sense of cross-cultural sensitivity that develops by the end of such stays abroad are of course immensely significant for international cooperation. In addition, I am happy that I was able to refresh my work on bilingual teaching thanks to a few new contacts. That was not my original intention, but I was surprised and happy that it was possible. In terms of teaching, I was able to get some new ideas, particularly in terms of digitalization. As I said at the beginning, my family came with me, which also allowed me to experience the school system as a parent. I am looking forward to sharing my personal experiences and impressions with my students in my seminars.
Why would you encourage other colleagues to do a research stay abroad?
On a professional level, research stays are essential for people working on international projects. These projects live and breathe through personal relationships. It makes me think of a quote from the dean of the UNC School of Education: "You're one of us anyway." You are part of an organization and the more cooperating organizations share their practical operations, the better they can reach their shared goals. And on a personal level, stays abroad are always energizing. Particularly in light of the last few years, marked as they were by the coronavirus pandemic, I have come back to my work in Hamburg with new motivation and energy.