Moritz Kreinsen, M.Ed.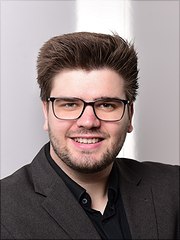 Photo: UHH/Kreinsen
Research Associate
Computer Science Education
Address
Universität Hamburg
Faculty of Education
Department of Social Sciences, Mathematics and Natural Sciences Education (EW5)
Von-Melle-Park 8
20146 Hamburg
Office
VMP 8
Room: 035
Contact
Research interests
AI Literacy and Data Literacy Education
Moritz Kreinsen studied secondary computer science and physics education and is a research associate at the Universität Hamburg since 2021. He is currently working as a coordinator for subject-specific data literacy education in the project Digital and Data Literacy in Teaching Lab (DDLitLab) and in various teaching projects on ai and data literacy education in teacher education/training (see below). He teaches and does research in Computer Science Education on the topics of AI Literacy and Data Literacy in Schools and Teacher Education.
Scientific Web
More about the research group: Computer Science Education
Dear students: for e-mail communication with us, please use your UHH e-mail account exclusively.
Research interests
AI and Data Literacy Education
Extracurricular teaching-learning settings (labs)
Teacher Training
Teaching
Note/Bug: If no search results can be found, please reload the page!
Lectures & Workshops
November 8, 2023
Presentation "Digital and Data Literacy in Teaching Lab - Components of Data Literacy Education at the Universität Hamburg" at the lecture series "Lunch & Learn: Let's talk about Data Literacy" by the Stifterverband (digital)
September 28, 2023
Poster presentation "How to Deal with Students' Conceptions: Conceptual Change Texts on Artificial Intelligence" at the "18th WiPSCE Conference on Primary and Secondary Computing Education Research" in Cambridge, United Kingdom
September 20, 2023
Presentation "Teachers' Reconstruction of Students' Conceptions on Artificial Intelligence" at the "INFOS 2023 - 20. GI Fachagung Informatik und Schule" in Würzburg, Germany [german]

August 15, 2023 +

September 12, 2023

Student workshop "AI Unplugged: On the Trail of Artificial Intelligence (AI)" at the MINTarium Hamburg in cooperation with the Schülerforschungszentrum Hamburg [german]
June 14, 2023
Guest lecture "Artificial Intelligence in Schools: Fostering AI Competences and Educational Consideration of Generative AI Systems" at the theme night "AI and ChatGPT" at Marion-Dönhoff-Gymnasium Hamburg [german]
March 21, 2023
Teachers' workshop "AI tools in project-based learning environments: How can we usefully integrate ChatGPT and Co. into open teaching concepts?" at the Schülerforschungszentrum Hamburg [german]
November 2, 2023
Poster presentation "AI Literacy and Data Literacy in interdisciplinary teaching-learning labs and computer science teacher education" at the "1st young researchers conference of computer science education" in Morschach, Switzerland [german]
October 22, 2022
Guest lecture "Student's Conceptions of Artificial Intelligence" within the bachelor seminar "Introduction to the Computer Science Education" [german]
June 7, 2022
Teacher training "Data Literacy Education in the Context of Climate Change" at the MINT EC "MINT 100 Conference" in Hamburg [german]
May 31, 2022
Teacher training "Data Literacy Education in the Context of Climate Change" as part of the anniversary week "5 Years SFZ Hamburg" in Hamburg [german]
October 19, 2021
Poster presentation "Student's Conceptions of Artificial Intelligence" at the "Workshop in Primary and Secondary Computing Education (WiPSCE 2021)" (digital)