Data Literacy for Teachers
Data Literacy Education - an interdisciplinary module in the context of climate change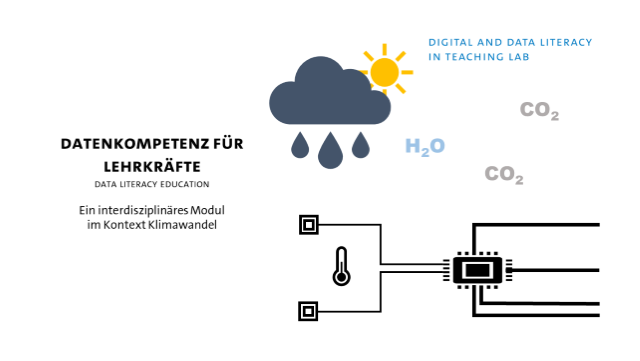 Project Management: Prof. Dr. Sandra Schulz, Prof. Dr. Sandra Sprenger

Research associates: Moritz Kreinsen

Duration: 04/22 - 03/23

Funding: Digital and Data Literacy in Teaching Lab (DDLitLab) with funding from the Stiftung für Innovation in der Hochschullehre
Aims and Background:
Knowledge about data and a confident and reflective handling of it are part of essential competencies for an empowered society. Where does data occur? How are they processed? What conclusions can be drawn from them?
In the context of a research lab, such questions, for example, are raised and examined in the context of weather and climate (change). This format offers students the opportunity to experience research-based learning in a practical way and to investigate individual research questions. For this purpose, the students construct and program their own weather stations with the help of microcontrollers and record their own data with these during excursions in various parts of the city. The data collected in this way is then analyzed, interpreted and visualized using apps, in order to be able to classify it and derive possible actions from it. The focus here is on urban climate issues.
The teaching concept is based on a competence model for teachers using the example of climate change and is adapted to the diversity and interdisciplinarity of the learning group. Aspects of programming, advanced computer science and robotics are addressed in a low-threshold manner and made accessible to the target group in a context-oriented way. For this purpose, a systems-analytical approach is chosen by using learning aids through block-based programming. The focus is on haptic learning and the construction of knowledge. The use of microcontrollers is particularly well suited for this, since data literacy is not only developed in theory, but also worked with own data and self-constructed devices, which can lead to meaningful learning.
In the context of this, the question is explored, which ideas the mentioned target group has about data, how these change after an interdisciplinary course and which interventions can lead to this.